These Are Situationist Times!
An Inventory of Reproductions, Deformations, Modifications, Derivations, and Transformations


︎Ed. Ellef Prestsæter

"I'm proud you call us gangsters, nevertheless you are wrong. We are worse, we are situationists." — Jacqueline de Jong, 1962

The Situationist Times was a magazine edited and published by the Dutch artist Jacqueline de Jong during the years 1962–67. In its multilingual, transdisciplinary, and cross-cultural exuberance, it became one of the most exciting and playful magazines of the 1960s. Throughout its six remarkably diverse issues, The Situationist Times challenges the notion of what it means to be a situationist, as well as traditional understandings of culture in the broader sense and of how culture is created, formatted, and shared. These Are Situationist Times! provides an in-depth history of the magazine while probing its contemporary relevance. The book also presents the material De Jong assembled in the early 1970s in collaboration with Hans Brinkman for a never realized seventh issue of The Situationist Times, devoted to the game of pinball.
Lavishly illustrated and brimming with previously unseen archival material, These Are Situationist Times! presents new and compelling perspectives on situationism, experimental publishing, and artist-run magazines.

27.7 x 21.7 cm
352 pages
380 NOK
︎︎︎Cart
Commissioned contributions by
Éric Alliez, Ruth Baumeister, Christophe Bourseiller, Larry D. Busbea, Eric C. H. de Bruyn, Matthew Fuller, Rodolphe Gasché, Dennis Göttel, Institute for Computational Vandalism, Jakob Jakobsen, Karen Kurczynski, João Pedro Leão, İz Öztat, Juliette Pollet, Ellef Prestsæter, Margriet Schavemaker, Sean Snyder, McKenzie Wark

Historical texts by
Roland Barthes, Hans Brinkman, Max Bucaille, Friedrich Wolfram Heubach, Jacqueline de Jong, Asger Jorn, Friedrich Kittler, Joost Mathijsen, Piero Simondo, Gianni-Emilio Simonetti, Alexander Trocchi, Paolo Virno, Bernd Jürgen Warneken

All deformation, reproduction, modification, derivation and transformation of the Situationist
Times is permitted. This extends to the texts written for this book.

Developed in collaboration with Malmö Konsthall and Museum Jorn
Supported by Nordic Culture Point, Arts Council Norway, the Mondriaan Fund, and the Nordic Culture Fund.

Edited by Ellef Prestsæter
Produced by Elin Maria Olausse
and Karen Christine Tandberg
Digital interface by the Institute for Computational Vandalism
Design by Anna Prestsæter
and Malin Kleiva
Photography by Øivind Möller Bakken
Translations from the French by James Horton, Robin Mackay, Ellef Prestsæter,
and Peter Shield
Translations from the German by Michael Wutz
Translations from the Italian by Simon Chapman and Denise Contini
Translations from the Dutch by Patrick Lennon
Copyediting: Jaclyn Arndt
Proofreading: Megan Low
Repro: John Nelander
Print: Livonia Print
Paper: Munken Lynx Rough
Edition: 1500
ISBN: 978-82-93104-25-4
Published by Torpedo Press 2019
kontakt@torpedobok.no
Review in Neelu.net
The Situationist Times: Same Player Shoots Again! International Tilt Exhibition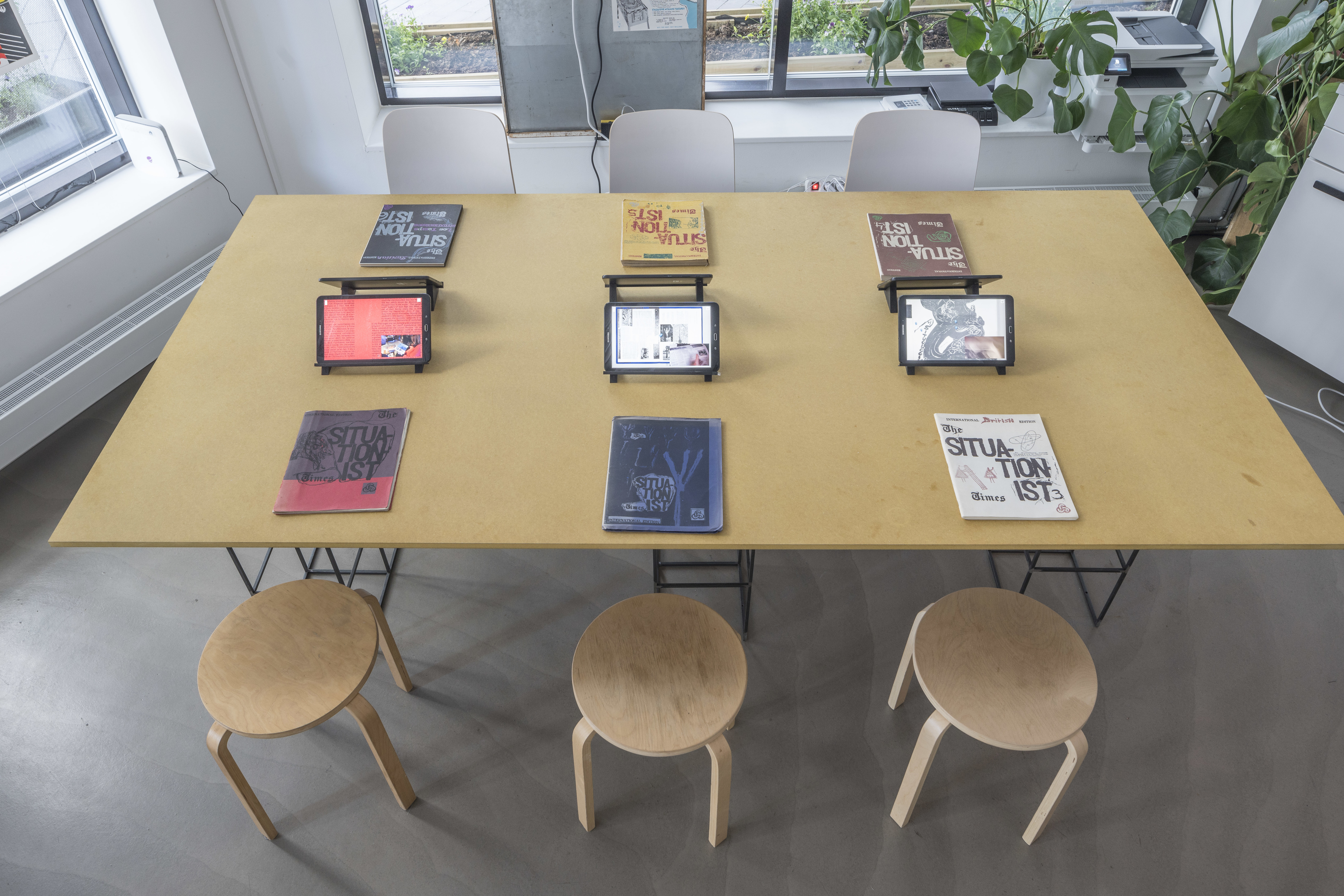 INSTRUCTIONS
Click on the "discover" button and select one of the six issues. Your browser will automatically enter full screen mode. You can then navigate in three different ways: scroll sideways through the pages of each issue, follow the video recording (in the lower right corner), or read the transcription of the conversations with Jacqueline (these appear and can be hidden by clicking on the text icon to the left of the video). The three levels are interlinked, so that whenever you jump to a new place (by moving the time cursor in the video player, scrolling through the pages and clicking on one of the blue placemark icons, or clicking on a paragraph in the transcription), the other two will sync automatically. Furthermore, you can zoom in and out on the pages by using the buttons in the upper left corner and the blue placemark icons can be hidden by unticking the "show links" box in the upper right corner.
The videos document Jacqueline de Jong in conversation with Ellef Prestsæter in Amsterdam, December 2017, and were recorded by Michael Murtaugh. The photos of the magazine spreads are by Øivind Möller Bakken.

The interface was developed by the Scandinavian Institute for Computational Vandalism and produced as part of These are Situationist Times, an exhibition, digitization, and publication project developed by Torpedo (Oslo) and Ellef Prestsæter in collaboration with Jacqueline de Jong, Malmö Konsthall and Museum Jorn. The project is generously supported by Nordic Culture Point and Arts Council Norway.
The situationist times of The Situationist Times:

Talk with Mckenzie Wark
June 2018 @ PUB
DISTRIBUTION*
︎︎︎Les Presses du Réel
(FR, L, BE, CH)
35 rue Colson
21000 Dijon
France
T +33 3 8030 7523
M info@lespressesdureel.com
︎︎︎Idea Books
(Europe, except FR, L, BE, CH)
Nieuwe Hemweg 6R
1013 BG Amsterdam
The Netherlands
T +31 20 6226154
M
www.ideabooks.nl/contact/
︎︎︎ArtBook / D.A.P
(US, UK, Rest of the World)
75 Broad Street
Suite 630
New York, NY 10004
T +212 627-1999
M orders@artbook.com
*Selected publications are available.
Contact
order@torpedobok.no
for details.
(This website was built by Kim Svensson)